Technology-Enabled Predictive Analytics

Accelerate Process Improvement While Eliminating Risk
ProModel is a discrete-event simulation technology that is used to plan, design and improve new or existing manufacturing, logistics and other operational systems. It empowers you to accurately represent real-world processes, including their inherent variability and interdependencies, in order to conduct predictive analysis on potential changes. Optimize your system around your key performance indicators.
Product Home
Think of your facility as a collection of resources that are intended to function together cost-effectively. Each person and piece of equipment is related to every other component (by coincidence or convenience). Together, they define how your facility works. Now, what if you could disassemble all or part of your facility and reconfigure the pieces to find ways to run the entire system more efficiently? What if you could actually see which new configurations work best and which ones fail, by watching them for a week, month or year? ProModel lets you do just that. Forget risk, disruption and expense—test multiple alternatives in an amazingly short time.


---

The ProModel Methodology
Visualize

Create a dynamic, animated computer model of your business environment from CAD files, process or value stream maps, or Process Simulator models. Clearly see and understand current processes and policies in action.
Analyze

Brainstorm using the model to identify potential changes and develop scenarios to test improvements which will achieve business objectives. Run scenarios independently of each other and compare their results in the Output Viewer developed through the latest Microsoft® WPF technology.
Optimize

Immediately test the impact of changes on current and future operations, risk free, with predictive scenario comparisons. Determine optimal business performance with a high probability of meeting your business goals.

---
The ProModel Advantage

ProModel provides decision makers the opportunity to test new ideas for process and system design or improvement before committing the time and resources necessary to build or alter the actual system.

ProModel focuses on issues such as:

Resource Utilization
System Capacity
Process Improvement
Throughput and Bottleneck Analysis
Supply Chain and Logistics
Customer Service Levels




By modeling the important elements of a manufacturing, logistics or service system, leaders can experiment with different operating strategies and designs to achieve optimal performance for their organizations.
Solutions
Six Sigma Initiatives

Enhance the effectiveness of Analyze and Improve steps of the DMAIC Methodology. Experiment to ANALYZE how the system responds within the model and develop a total continuous IMPROVEMENT strategy in a dynamic, risk-free environment.
Manufacturing Performance Improvement

Increase throughput by optimizing your processes, systems, and resources
Supply Chain and Logistics

Improve the performance and predictability of your supply chain without costly delivery interruptions



Resources
Product Summary

The ProModel Optimization Suite is a discrete-event simulation technology that helps you to make better decisions faster. It is used to plan, design and improve new or existing manufacturing, logistics and other tactical and operational systems. It empowers you to accurately replicate complex real-world processes with their inherent variability and interdependencies, to conduct predictive performance analysis on potential changes, and then to optimize the system based on your key performance indicators.
Learn About ProModel

Discover ProModel-specific training, tutorial, and how-to videos. Explore our training resources, online help, and view our pre-recorded webinars to help further your knowledge of ProModel.



| | |
| --- | --- |
| ProModel: with Six Sigma Analysis and Minitab | |
What's New
What's New in the 2014 SP2 release?
SharePoint Connection
Collaborating with your team while maintaining the integrity of the data driving the model just got easier. You can now store your external files in SharePoint 2010 or 2013 and simply reference them in your models. This includes Excel files used in Array Import and Export, Entity Location, and External Arrival files and text or CSV files used in Read and Write statements. SharePoint allows you to control who on your team has read or write access to the data and ensures the most up-to-date data set no matter where your models are simulated.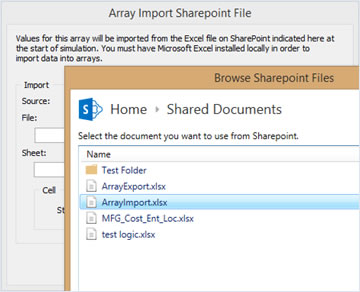 Multi-View Runner
Tired of switching between views of your model during simulation to catch glimpses of activity in various sections? Why not be able to always keep your dashboard of variables in view while following an entity through the system? Well, now you can! Multi-View Runner allows you to configure up to 4 different views per monitor and designate which one will be displayed in each view window. This is also great for presentations in a group setting where you can simultaneously highlight different portions of your model by zooming in and displaying each on separate monitors.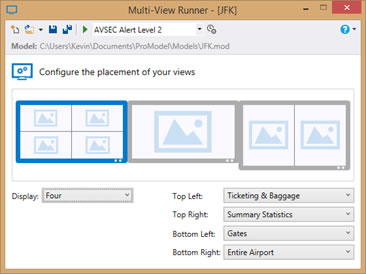 ---
What's New in the 2014 release?

New Logic Windows
New logic windows help you build your logic faster, easily verify it and more clearly understand it.  Color has been added to visually distinguish your statements and functions, comments, and strings. You can even change the colors and font of the logic windows to customize them as you like. To encourage good formatting, auto-indentation for blocks of logic and begin-end brackets has been added. Every line of logic is numbered to quickly locate areas of your code during verification and troubleshooting. These new capabilities help better visualize your logic while Intellisense and the Syntax Guide help you build it faster.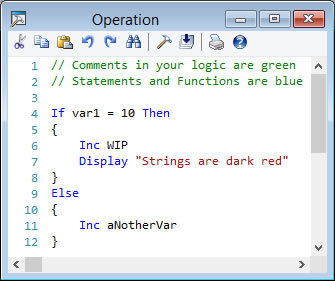 Intellisense
Intellisense is what it sounds like; an intelligent list of all logic elements that pops up as you define your logic so you can quickly write it. Isn't that what you thought it was? ☺ This list of elements appears as you type and includes all the statements, functions, locations, entities, resources, variables, attributes, arrays, distributions, etc…basically everything you need to write logic. And the beautiful thing is, you don't have to remember exact names. As you start typing, the list essentially filters and highlights the element name that begins with the characters you typed. If the highlighted element is the one you want, select tab, space, or enter and that name will be committed to your logic. Fast and easy!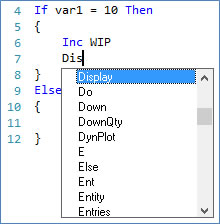 Syntax Guide
After a statement or function is added to your logic, a tooltip will appear displaying the syntax for the statement or function with all its possible options. No need to remember what is required or take time to look it up in Help; the Syntax Guide will appear and show you. This saves you time and keeps you focused on your logic.

Debug Window Expanded View
Along with new Logic windows, the Debug window has been improved to show more than three lines of logic! As you step from line to line, you can scroll and see the entire window of logic and can anticipate where it will go next and understand where it has come from.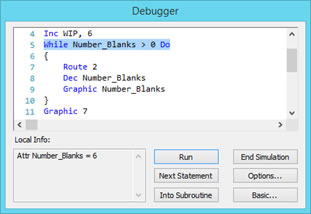 Probability Field Flexibility
Varying probabilities for rework, line balancing, patient flow, etc. is now easier than ever to setup and include in scenario analysis. Simply add macros in your routing probability fields and define them as scenario parameters! Also, initialize and manage your routing probabilities through an array import.
New Resource Search Type
A new way to choose how entities capture resource units is by First Available. This search type gives priority to units 1, 2, 3, etc. in that order, which ensures that only the maximum number of units needed at any one point during the simulation is all that is ever utilized. This gives you the ability to run your model in a pseudo unconstrained scenario and determine exactly how many units you need to complete the work defined in your system.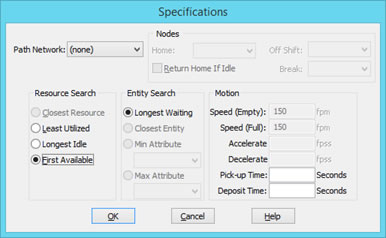 Model Instructions
Document your models, provide instructions on how to run them, and even explain what the results mean through utilizing images and links to online content. All this can be included in a rich text formatted (RTF) document and added as Model Instructions. Whenever your model is opened, the Model Instructions window will appear, displaying the contents of your document. From this window, scenarios can be simulated or the window can be dismissed allowing the user to explore model.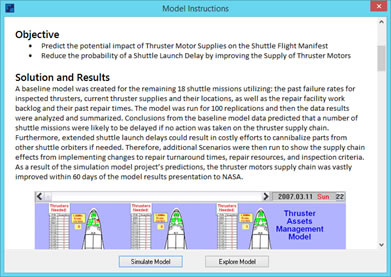 Getting Started Panel
With the new Getting Started panel, you have immediate access to demo models, a quickstart video, training resources, online help, the ProModel Support team, and a whole host of How To videos. It's easy to find since it will be the first thing you see when you start up the application.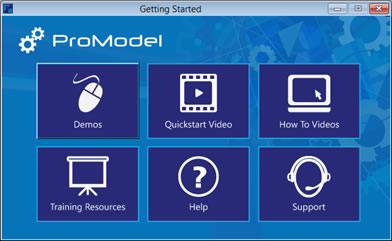 New Demo Models
New demo models have been added and some of our previous demos have been refreshed to include new graphic libraries, model instructions, and updated logic. View the list of our demo models by clicking on the Demos button in the Getting Started panel.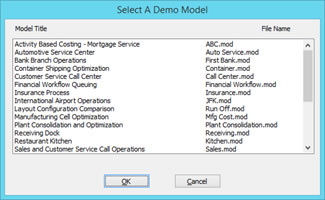 New Graphic Libraries
The ProModel and MedModel default graphic libraries have been updated with enhanced metafile (EMF) images. These scale nicely giving you crisp, clear images no matter what zoom level you are at. All the demo models have been recreated with EMF images as well.
How To Videos
Our Support team has been hard at work creating short How To videos to aid our customers in modeling techniques and other useful tips about how to use our products. We have brought all these videos together and organized them into one place for you to search and access. Simply click on the How To Videos button in the Getting Started panel to access them or check them out here!
Now in Spanish!
ProModel has been translated into the Spanish language. First, run the installation in the Spanish language in order to ensure all supporting files are included. And then, if your Windows language settings are in Spanish, ProModel will also run in Spanish.
---
What's New in the 2011 SP4 release?
Improvement in resource requirements analysis
We now allow the number of units specified in a Use request to exceed the total number of units defined for a given resource. This allows you to create scenarios with fewer resources than a task or activity requires, thus effectively extending the overall time a task takes to complete. Compare these with other scenarios of varying resource quantities and analyze the effect on the overall process initiatives.


Compatible with Windows 8
This release has been tested and verified to install and run on the Microsoft Windows 8 operating system.
---
What's New in ProModel 2011 SP2?
<![endif]> Resource Shift Carryover extended to Use statement – this powerful capability, introduced in SP1 release, has been expanded to include resources captured with a USE statement. It enables you to carryover work started by a resource on one shift and continue it with another unit on the next shift. For example, hospitals operating 24 hours a day can transfer patient care from one shift to the next.

<![if !supportLists]> · <![endif]> Output report views and results copied with new model – when saving an existing model as a different name, if that model also has saved Output Viewer report views, you will be prompted and given the choice to copy the saved report views and any results files with the new model name.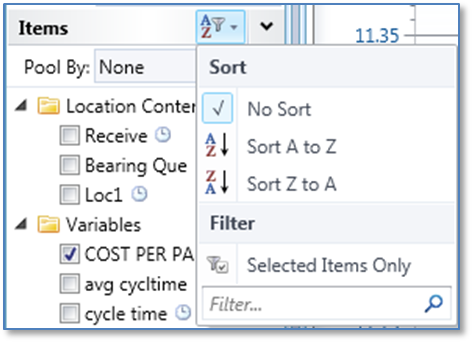 <![if !supportLists]> · <![endif]> Charts linked in Output Viewer report views – charts are now automatically linked together if they exist in the same report tab. This means that when you add or remove a scenario from one chart, all other charts will have that scenario added or removed as well. Other Filter Options can also be linked and, if desired, charts can be unlinked so that changes only apply to the selected chart.

Output Viewer Items sorted in original model order – Filter Options now show all elements in the Items list in the order they appear in the model tables. This is now the default Item sort, however, the list can also be sorted alphabetically.
<![if !supportLists]> · <![endif]> Scenario differences highlighted – in the Scenario Manager, you can visually identify which parameter values are different than the baseline values. Any differences are changed to a blue color and given a bold emphasis.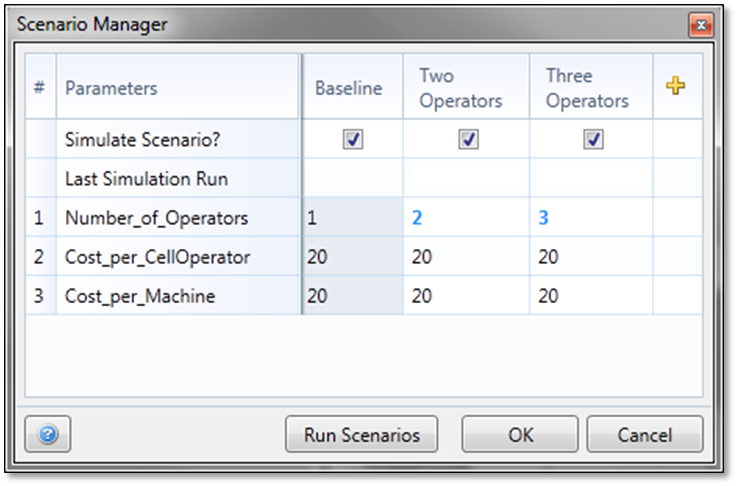 <![if !supportLists]> · <![endif]> Use Google SketchUp 3D graphics with 3D Animator ! – Google SketchUp has thousands of free 3D graphics. We've created a plug-in for SketchUp that will allow you to properly export its graphics to 3D Animator.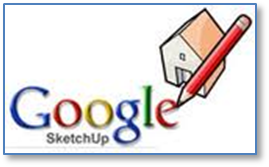 · <![endif]> Move a chart and create a new Report – if you want to move an existing chart into its own new Report tab, simply drag the chart up to the plus "+" tab and drop it there. A new Report tab will automatically be created with your chart in the view.
<![if !supportLists]> · <![endif]> External Arrival and Entity-Location files now support the .xlsm and .xlsb Excel file formats.
<![if !supportLists]> · <![endif]> After installing a 3D Animator package file, you are now prompted to load the setup file.
<![if !supportLists]> · <![endif]> Output Viewer and 3D Animator now have context-sensitive online help.
---
What's New in ProModel 2011
With ProModel 2011 you are able to easily model multi-shift facilities using the new resource shift carryover capability, quickly compare parameters and manage your scenarios in the redesigned scenario manager, and gain more insight into your model results with the new Output Viewer time series charts.
Resource Shift Carryover
This powerful new capability allows you to carryover work started by a resource on one shift and continue it with another unit of that resource on the next. For example, manufacturing facilities that have extended task times or complex processes spanning multiple shifts or days can easily pass work from the first to the second shift. Hospitals operating 24 hours a day can transfer patient care from one shift to the next. Shift carryover works whether it's one resource or multiple resources performing a task. Each resource will independently be interrupted to go off shift and allow resources on the next shift to resume the work. Shift carryover currently works for resources captured by a Get, Jointly Get, and Move With statement.
New .NET Scenario Manager
The new scenario manager makes adding, modifying, and managing your scenarios a snap. The open interface displays all of your scenarios and their parameter values in one simple table. Each column of the table is a separate scenario where values can be quickly compared side by side between scenarios. All of this now makes your scenario analysis more straightforward and streamlined. (Note: RTI macros have been changed to Scenario Parameter macros to coincide with the new Scenario Manager.)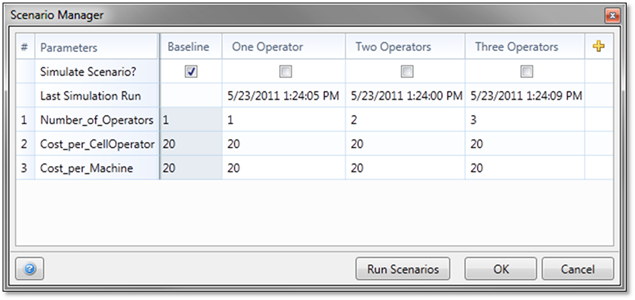 New Output Viewer time series charts - we are excited to introduce the following new and modified time series charts:
Location Utilization - this new chart displays utilization of locations, as a percentage of contents versus overall capacity, over the course of the simulation run.

Resource Usage - this new chart shows how many resources were used and when over the course of the simulation. Add a capacity line to the chart and compare the actual usage against the maximum potential resource usage. In order for existing models to generate this report, resources need to have Time Series selected for their statistics in the Resource edit table.

Location State - this upgraded chart now includes the averaging of location states across replications. It is displayed as a 100% stacked column Gantt chart over time.

We've also added the following enhancements in the 2011 release:
Simulate Scenarios - now you can initiate the running of your scenarios without opening the scenario manager. Quickly simulate your scenarios by choosing Simulate Scenarios from the Simulation menu or toolbar.

Package installation directory - when a package is installed, the suggested directory to install it into now points to the same directory where the package file exists.


Standardized hot keys - we now use the standard hot keys Ctrl+O and Ctrl+S for File Open and File Save actions, respectively. We also now use Ctrl+A for Select All functionality in tables and logic windows. This means that we had to change the hot keys for accessing the Subroutines (formerly Ctrl+S) and Arrivals (formerly Ctrl+A) modules, to be Ctrl+U and Ctrl+I, respectively.

Double-click to select element name - all element names, locations, entities, variables, subroutines, etc., are selected when double-clicking on them in their respective edit tables. This enables quick access for copying of the names.

Data Grouping Interval for Statistic series - when viewing the raw data for time series charts, you can now set the grouping interval if Statistic series are added to the chart.

Pooling time series statistics - Time Plot charts now have a pooling option that allows you to combine the values of the Items selected and display their joint average in the chart. Series for Statistics are also automatically pooled for all items selected and show as one joint Statistic, if the chart type has been set to stacked.
System Requirements


| | |
| --- | --- |
| COMPONENT | REQUIREMENT |
| Computer and processor | 1 gigahertz (GHz) or faster 32-bit (x86) or 64-bit (x86-64) processor |
| Memory | 1 GB RAM (32-bit); 2 GB RAM (64-bit) |
| Hard disk | 1.5 GB available disk space |
| Operating system | Windows 10, Windows 8.1, Windows 7, Windows Vista |
| Other | Internet access (for online registration and updates) |