What's New
What's New in ProModel 2018 SP3
Enhancements

Entity Spot Enhancements
Entity Spots now will resize based on the zoom percent of the model. Drastically improving scaling ability.
Background Graphic to Scale
With the Background Graphic to Scale option in the Insert Ribbon, you can select a background image, including DWG (requires AutoCAD® to be installed on your machine).

The image can be zoomed in and out, and panned to find the correct section of the image that you want to place markers on to indicate distance and grid units desired. The image will be placed in the model as the background scaled accordingly to your specifications.
Unique Graphic Libraries
Each model will now have the ability to have a unique Graphic Library located in the same directory as the model is stored.
Fixes and Improvements


Additional grid stability improvements
Macro stability improvements
Enhancements to Array properties
Improvements to Contextual Help
Regular bug fixes
---
What's New in ProModel 2018 SP2
Enhancements
System Functions
ScenarioName() - Returns current scenario name when the function is invoked in logic; providing ability for more custom reporting.
SysClock() - Returns the System Date and Time when the function is invoked in logic; providing ability for more custom reporting.
Fixes and Improvements
Resolved logic window stability
Shift carryover improvements
Auto Update improvements.
Grid stability improvements
File save stability improvements
Regular bug fixes
---
What's New in ProModel 2018 SP1
We are excited to announce the release of ProModel and MedModel 2018 SP1.
Enhancements
Macros are usable in Array import/export fields
Macros can replace File, Sheet, and Cells
Users can now experiment with Array import and export by changing the macro scenario parameters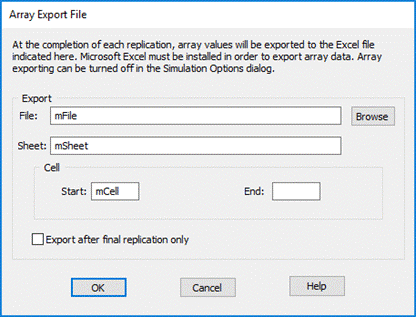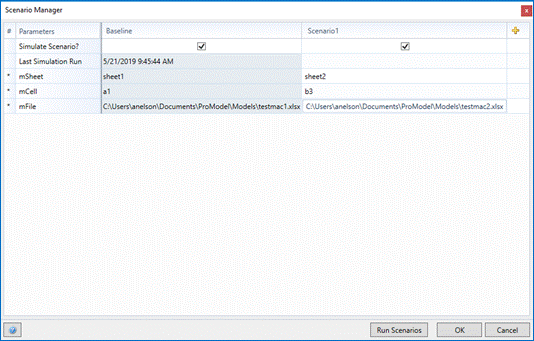 ---
What's New in ProModel 2018?
Ribbon UI
The traditional menus and toolbars have been replaced with a fluent Ribbon bar like the one you find in Microsoft Office applications. The new Ribbon makes it easier to access the various modules and features within the application and better facilitate touch screen and high-resolution devices.

Quick Access Toolbar
Add highly used ribbon buttons to the Quick Access Toolbar (QAT) for fast and easy access to the program functionality they provide (located in the upper left corner of the application). Either select an option from the Customize menu or right-click on a button in the ribbon and choose to add it to the QAT.

Docking Windows
Windows are now docked within the new workspace interface, which means that when you adjust the size of one window, the others automatically resize accordingly. Say goodbye to overlapping windows. You can also stack windows on top of each other and quickly access them from their respective tab thus saving valuable view space. Windows even proportionally adjust when you resize the entire application.

Window Persistence
Tired of leaving a module only to return and have to reopen its sub-windows? In this new release, all windows persist! If you leave one module for another (e.g. to create a new global variable), when you return to that module, all its previously open windows will be reopened.
Right-Click Context Menus
Context menus are available in every table and accessible by right-clicking in any field within that table. For example, you will be able to quickly delete, insert or move a record with a simple right-click of the mouse. The right-click context menus in Background graphics are improved and provide new access to editing other modeling elements such as locations and variables.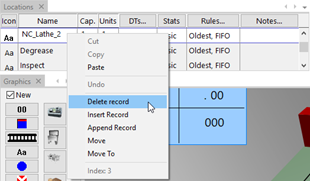 Recent Model List
The list of recently opened models in the File application menu has been expanded from five to up to 19. Pin your favorite model files to the top of the list and hover over any model name to reveal the full path to the model.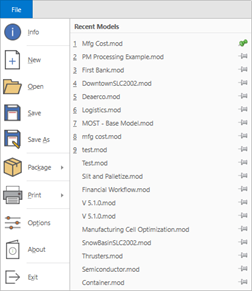 Single Background Graphics Mode
No more discussion or decision on whether to go to Front of Grid or Behind Grid mode when creating background graphics. You simply just go to Background Graphics for editing images. Create shapes, add text and import pictures through the new Insert ribbon.

Enhancements
New and updated hotkeys for fast access to key modules and application features.

Super Tooltips appear revealing hotkeys and help snippets when hovering over ribbon buttons, and selecting F1 opens online context help for the given button.




Variable labels can be quickly created using the hotkey Ctrl+T and then clicking on the Layout.
SimRunner Input Factors have been expanded beyond the previous limit of 500.

Simultaneously run an optimization in SimRunner and continue editing your model.

Conveniently cycle through all open windows using Ctrl+Tab.




Name-Index Numbers are displayed in right-click context menus.

Selecting Continuous Trace now opens a window and begins tracing (like Step Trace Events).

When exporting your model to a text file, you are now prompted whether or not to open it right away.


---
What's New in the 2016 SP1 release?
Resource Distance Traveled Statistics
The distance your resources travel over the course of a simulation is now collected and reported in Output Viewer. It is displayed as Total Distance Traveled in Resource Summary reports and tracks the overall distance traveled for individual units.

Identify Captured Resource Units
In addition to determining which resource you've captured, you can now find out the specific unit of that resource as well. With the new OwnedResourceUnit() function, you can get the unit number of any resource owned by an entity. This is useful when collecting custom resource statistics at the individual unit level.
In-Process Resource Utilization Statistics
Access the utilization of your resources at any time during simulation. Using the newly modified PercentUtil() function, you can find out the utilization of individual units of a resource or a summary of all units of a given resource type. This allows you to make dynamic logical decisions or write out custom statistics to a CSV or Excel file.
Utilization for a specific resource unit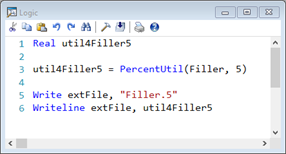 Utilization of all units for a resource type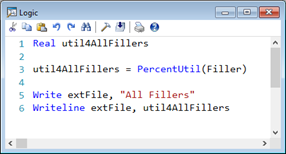 Quickly Access Element Definitions
Have you ever been writing or viewing logic, and wanted to quickly see the definition (or details) of a specific subroutine, array, location, etc.? Well, now you can! Simply highlight that model element in logic, press the F12 key, and you will be taken to that element's specific record in its edit table. For example, if you highlight a subroutine name in logic and press F12, you will be taken to its exact record in the Subroutine table.
Programmatic Export of Statistics
The statistical results of your simulation runs can be programmatically accessed through a new API to Output Viewer. You can get the raw data, down to the individual replication, or have it summarized or grouped (just like in Output Viewer) prior to accessing it. Either way, you can access your results, for example to load into Excel or a database, for analysis outside of Output Viewer.
As an example, this is a Time Plot in Output Viewer where the time series data is averaged over a custom period of 15 minute intervals.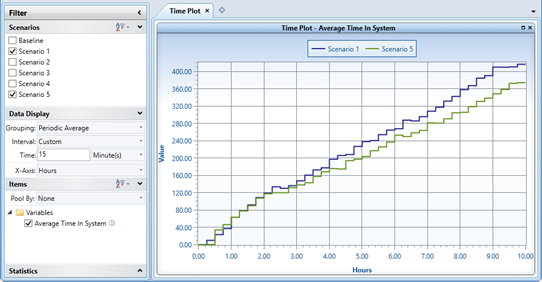 Using the new API, you can have Output Viewer summarize the data into 15 minute intervals prior to exporting it to Excel.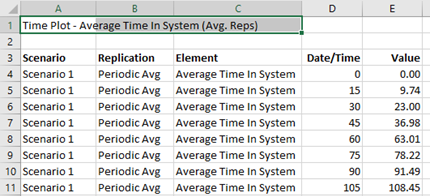 The exported format makes it easy to create a Pivot table and Pivot chart in Excel.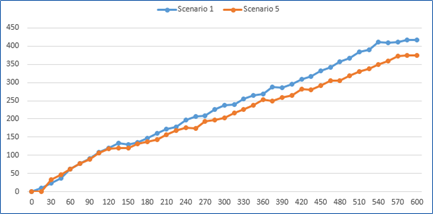 Enhancements
When exporting Array data at the end of simulation, the replication number is no longer written out in the Excel Sheet name if "Export after final replication only" is checked.
Minitab version 17.3 is now supported
---
What's New in the 2016 release?
Simplified Single Click Installation and Licensing
Enter you Serial Number and Email address and click Install. Nothing more to do as the software is installed and licensed without further action.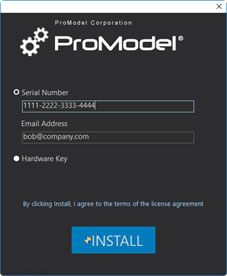 Intellisense Optional
If you like to enter your model logic freely, in your own format and without prompts, you can turn off the Intellisense feature and write your logic however you like.


Shift Carryover and Grouped Entities
Resources that entities capture prior to grouping, and any that the grouped entity subsequently captures, can be pulled off shift and replenished through this shift carryover capability. The grouped entity will only resume processing once all resources have been replaced.
Failed Arrival Statistics for Ordered Entities
Previously, only explicitly defined entity Arrivals automatically collected stats when failing to arrive (due to a lack of available capacity). Now, you can individually control which entity-location Order statement reports when it fails to arrive at its ordered location.
System Requirements

| | |
| --- | --- |
| COMPONENT | REQUIREMENT |
| Computer and processor | 1 gigahertz (GHz) or faster 32-bit (x86) or 64-bit (x86-64) processor |
| Memory | 1 GB RAM (32-bit); 2 GB RAM (64-bit) |
| Hard disk | 1.5 GB available disk space |
| Operating system | Windows 10, Windows 8.1, Windows 7 |
| Other | Internet access (for online registration and updates) |