What's New
Release 7.6
Version 7.6 release of Shipyard AI is now available!
We're excited to share a summary of new features and improvements to meet your capacity planning needs.
Enhancements and Improvements
To allow you to track labor by trade, we've added a new Space Activities screen, where you can associate multiple labor sources to a Space Requirement.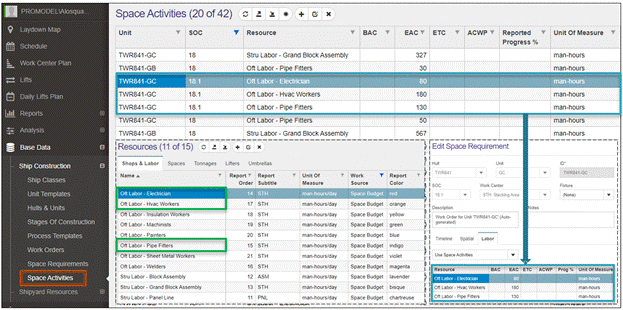 You can also now track labor based on Space Activities from within the Work Center Plan with a direct link between placements and labor demand.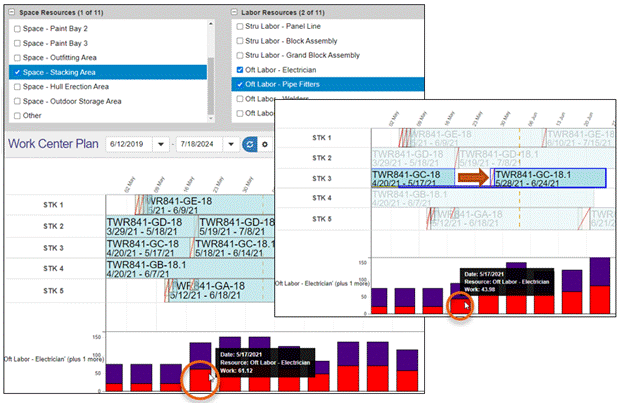 We've made several improvements to the Capacity Utilization Package (CUP):
You can now group data as follows:

We've added two new options in the CUP Reports Options dialog to provide more flexibility for tracking square footage utilization for Space resources: Include space utilized by multiple placements and Include space utilized outside a location.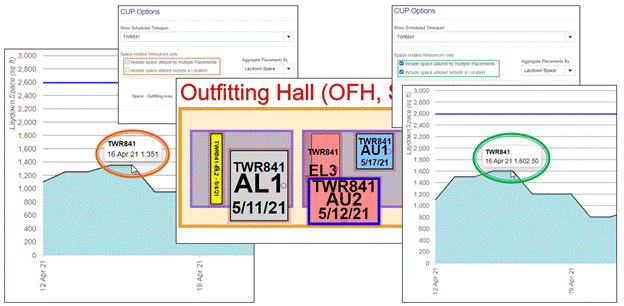 You no longer need to define a shape for each orientation of a given unit. We've added a Mirror option for Inverted, Aft Up, or Port Up orientations of a unit template (in Base Data > Ship Construction > Unit Templates).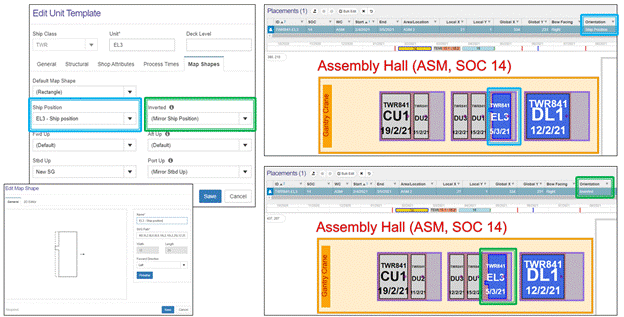 When you manually create a placement on the Laydown Map screen, you'll now see a ghost image of the unit to be placed on the map that moves with your mouse to the desired position, where you can then click to release it.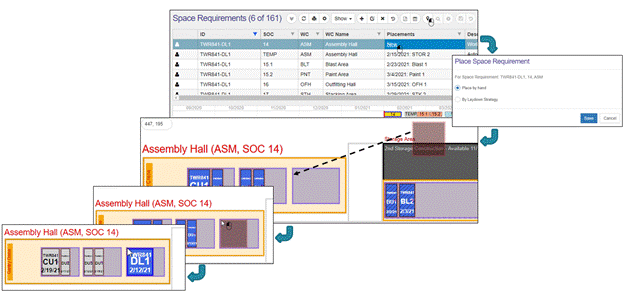 Batch Supervised Laydown
Batch Supervised Laydown allows you to Place Multiple Space Requirements through the Supervised Laydown feature.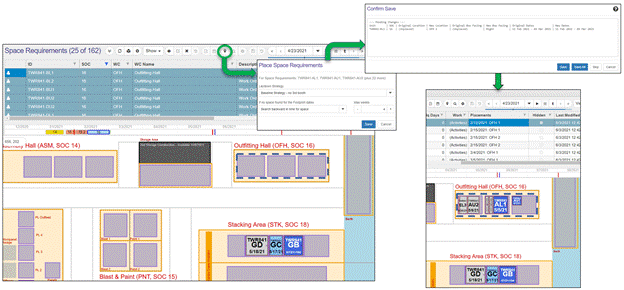 Location Plan Report
The new Location Plan report allows you to track current and future placements for a specific Area of your shipyard. The report features a customizable threshold that can be used to limit the amount of future data to load.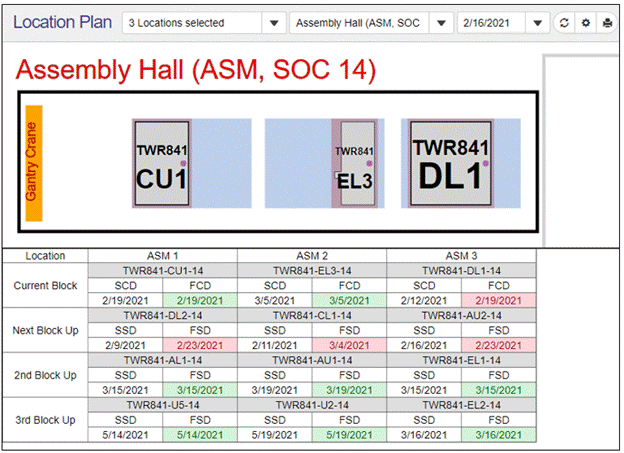 Step Through Map Events
We've replaced the Step through activities mode on the Laydown Map with the Step through Map Events mode. When enabled, a Map Events grid appears on the right of the Map pane, where you can select specific map locations. Clicking on a row on the map events grid will automatically change the date on the Laydown Map to the event date.

After selecting a row in the grid, you can use the up and down arrow keys on the keyboard to step through map events.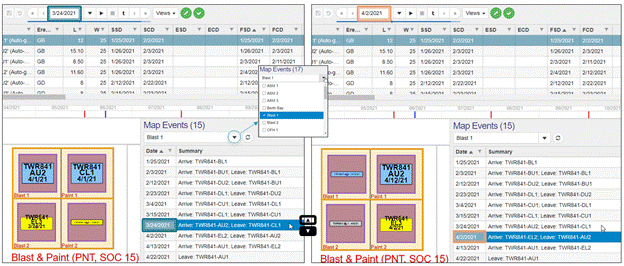 Noteworthy Fixes and Improvements
PMSHIP 5845 — We've updated how placements that straddle locations are displayed on the Workstation Plan screen to resolve discrepancies between the Laydown Map and Workstation Plan views.
PMSHIP 5901 — Fixed an issue where printing the Laydown Map wasn't showing Areas and Locations when selected in the Print options.
PMSHIP 5916 — Fixed an issue where in the Workstation Plan, some grid columns were not exported to the Excel file.
---
Release 6.10
Version 6.10 release of Shipyard AI is now available!
We're excited to share a summary of new features and improvements to meet your capacity planning needs.
What's New?
Performance Improvements
We've made several improvements to increase overall application performance and to make it easier for you to work with Shipyard AI using multiple browser tabs and with multiple users at once.
You can customize the amount of data being loaded for the Laydown Map by changing the new 'Load data lead weeks' and 'Load data main weeks' fields in the Laydown Map Options dialog. Make this window of data only as wide as needed in order to minimize the amount of time needed to refresh the Laydown Map.





If Shipyard AI encounters a data concurrency issue, the resulting message will now include a summary of changes made that were not saved. You can now copy this list and re-apply the changes after refreshing the view.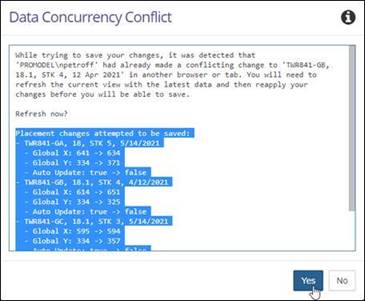 When you navigate to the Hulls & Units screen, Shipyard AI now reminds you about Hulls with delivery dates that have passed and allows you to quickly archive them to improve overall application performance.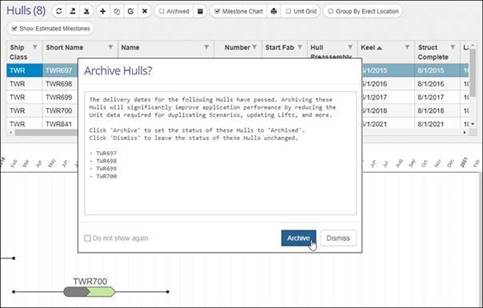 Laydown Map Improvements
When creating placement styling rules, you can now compare two properties when defining placement styling conditions.

For example, you could use this type of rule to compare Space Requirement work centers to current location work centers to indicate by color on the Laydown Map where work was originally planned vs. where it was moved to, due to any number of issues.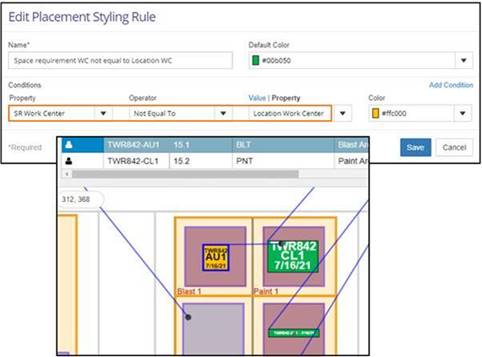 You can now print selected map views and rotate two map views on a single page for printing. This will allow you to fit longer map elements on the same page for presentation purposes.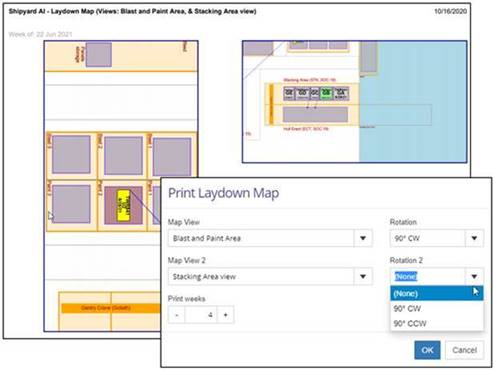 We've updated Critical Buffer reporting on the Laydown Map and Model Health screens to show just a single record for each CND violation to provide a more useful issue count.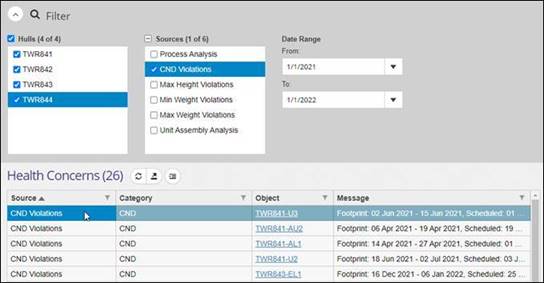 To make it easier to locate placements on the map and trace them through the construction process, we've added a single Space Requirement Gantt row near the top of the Laydown Map pane.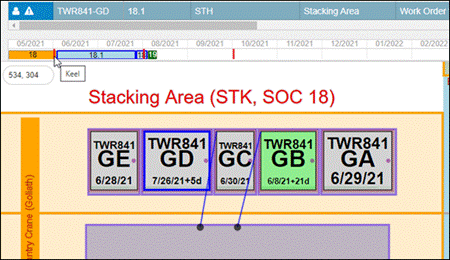 Reporting Updates
In the CUP report options, you can now choose to aggregate placements by the number of items Laydown Space (default, which will change the Y-axis values to reflect the count of days per the resolution of the selected resource.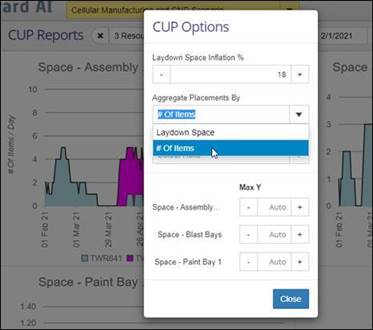 The Hull Erect report now displays dotted lines with arrows to indicate any changes in placements from their scheduled dates.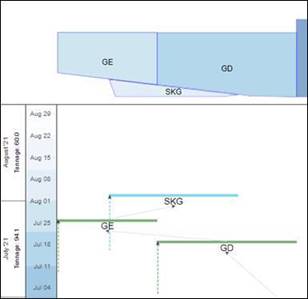 Additional Enhancements
You can now specify a unit capacity for a location in the event that you need to limit the number of units to be placed by Auto Laydown in a given location.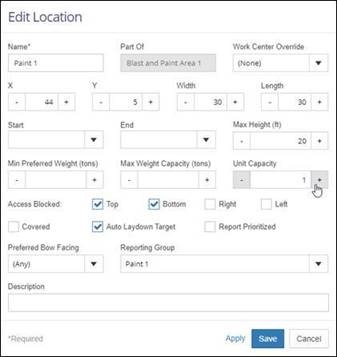 Weekends and holidays are now included on the timeline of the Work Center Plan to accommodate any work that needs to occur on non-working days.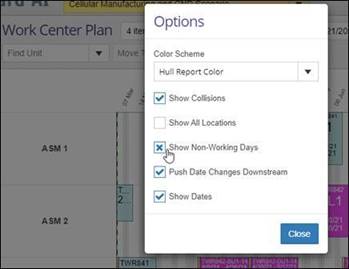 ---
Release 6.7
Version 6.7 release of Shipyard AI is now available!
We're excited to share a summary of new features and improvements to meet your capacity planning needs.
What's New?
Reporting and Analysis
We've renamed the Resource Coordination report to Work Center Plan and we've made it easier for you to quickly find units onscreen and move them as needed.

The Work Center Plan helps you make quick re-planning decisions by providing a visualization of available space in the shipyard over time by location. This means that you can shorten overall schedules or work to capture new business.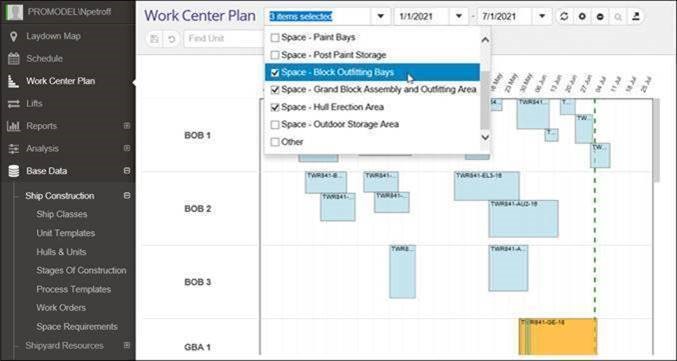 The Model Health report helps you identify and resolve data issues for more accurate modeling and analysis. With this release, the Model Health report now checks for exceeded height and weight limits and also verifies correct stacking behavior for parent / child relationships. In addition, you can now use Data Processing scripting to define custom logic for the Model Health features. This provides an additional layer of proofing and validation.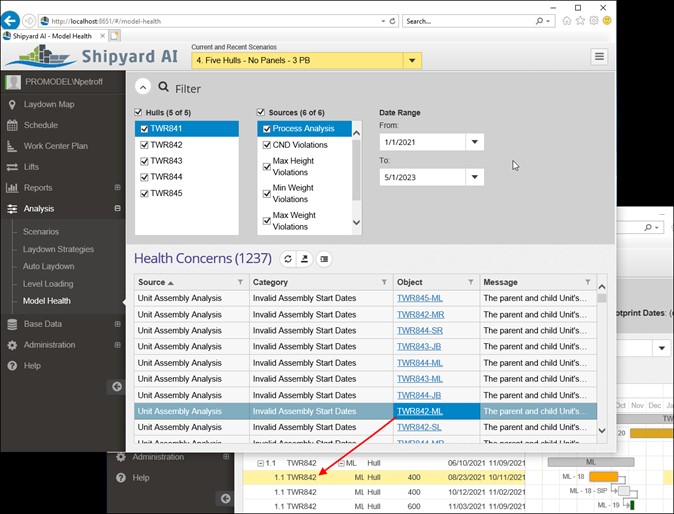 We realize that accurate modeling and analysis requires the consistent application of your shipyard's business rules. You can now access your laydown strategies (business rules) when placing units within the Laydown Map screen! This allows Planners to place one or more units directly without having to run a full Auto Laydown and still utilize your placement strategies. The option to place a space requirement by Laydown Strategy appears when you create a new placement.

In addition, you can now click the New link in the Placements column of the Space Requirements grid to create a new placement.

When you place by Laydown Strategy, you can also have Shipyard AI find the new placement on the map.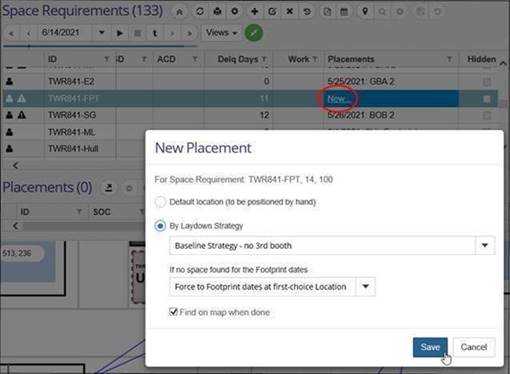 Improved Data Transfer Features
To save you time and effort when transferring larger data sets between scenarios, we've moved the Transfer Space Requirement feature to the Space Requirements screen.





Noteworthy Improvements
Fixed an issue where changing a summary task's Footprint Complete Date to start earlier resulted in the Footprint Start Date changing to that date.
Fixed an issue where not all Space Requirements were visible when using the View in Schedule feature.
Fixed an issue where placement styling for setup time was removed when selecting the placement.
Fixed an issue where setup days weren't included when using the Find Placement feature.
---
Release 6.4
Version 6.4 release of Shipyard AI is now available!
We're excited to share the following summary of new features and improvements to meet your capacity planning needs.
What's New?
New reports and reporting features
We've added a Location Profile report that provides a side view of units for up to two selected areas on a specified date. This allows shipyard planners to get a better perspective on stacking operations relative to crane height.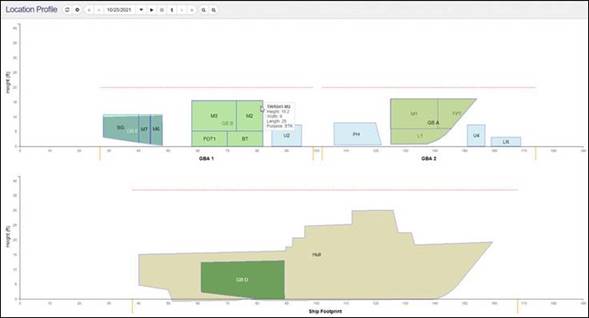 We've added a Profile Progress report that provides a profile view of the hull and shows the progress of units for a selected date. This is a common report that combines historic, current and forecast status information with the familiar profile view of the hull under construction. This report also allows verification of activity sequences by block to help ensure schedule compliance.





The Location Resource Beta screen now includes the following functionality, making it a powerful new way to visualize location capacity over time and quickly identify and correct problems.
You can export the Location Resource Beta report to an SVG file.
Overlaps on the Location Resource Beta report due to collisions are now indicated in red.
You can choose the color scheme for the Location Resource Beta report based on Hull, Purpose, or delinquency.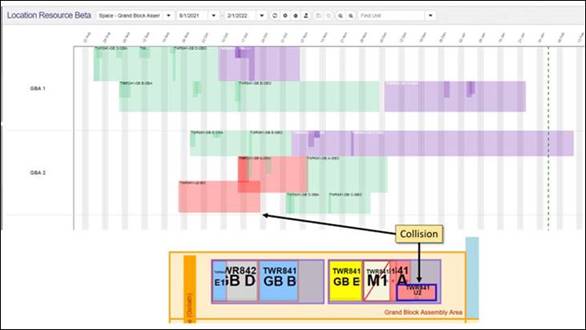 Date adherence reporting capability
You can now export from the Auditing screen to help you track and report on various changes made to data in the system, such as changes to Space Requirement dates, which user made the change, when a change was made, what the previous date value was and what it was changed to. The new export feature allows you to work with this data in Excel to identify and analyze date adherence trends, saving valuable time when performing analyses and reporting.
Schedule screen improvements
We've made several improvements to the Schedule screen Gantt view to allow you to quickly find information for specific units, to see changes, and to compare the present state to possible future states. You can change the outline level of the displayed hierarchy, filter by unit, control the effect of date-change dependencies between units on the view, and toggle task links, milestones, summary tasks, and "Today" indicators.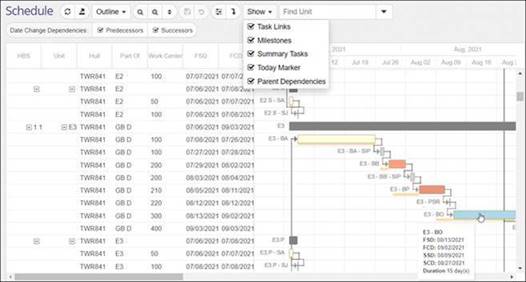 Additional Improvements
Here are some highlights from the previous limited v.6.2 release that may be new to your organization with this update.
We've added a Hull Erection report that provides a profile view of all erectables (grand blocks or other erecting units) for a selected hull with a visual distribution of the units within the production timeline. This allows Planners to understand how the ship is erected from a vertical perspective with respect to the production timeline.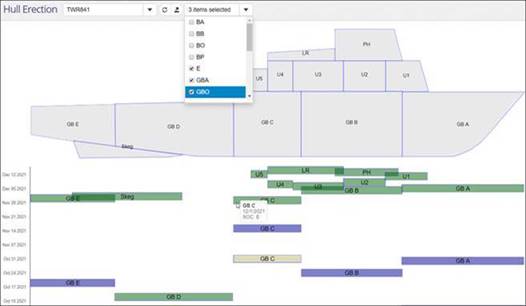 ---
Release 5.12
Version 5.12 release of Shipyard AI is now available!

As another year draws to a close, we're excited to share a summary of requested features and improvements available with this sixth and final release of 2019.

As with previous releases, these changes reflect your valued and ongoing feedback about how Shipyard AI can continue to provide best-in-class tools and solutions for your organization's capacity management needs.
What's New?
New Map Shape features
To help you create unit shapes that more closely match their real-life counterparts when viewing them on the Laydown Map, we've added a Map Shape 2D editor. The editor enables you to draw a Scalable Vector Graphic (SVG) shape that you can then assign at the unit template level.




To better represent the shapes of units as they change orientation, we've added functionality to the Unit Templates screen to allow you to assign map shapes to Unit Templates by orientation. The associated unit will appear on the Laydown Map using the shapes you specify for the following orientations: ship position, inverted, forward up, aft up, port up, and starboard up.
Step Through Activities mode
You can now activate the "Step Through Activities" mode in the Laydown Map Options to automatically navigate to the date and map location of any Space Requirement selected in the Laydown Map grid.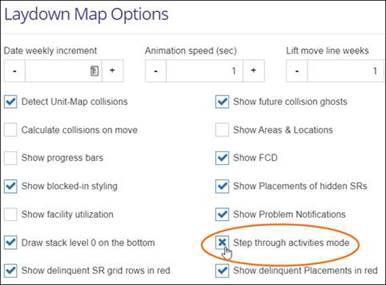 Toggle delinquent placement indicators
To improve scan-ability of the Laydown Map grid, we've added the option to toggle whether delinquent placements appear as red rows in the Laydown Map Space Requirements grid.
Noteworthy Enhancements and Additional Improvements

We've improved the layout of the Areas & Locations view on the Map Editor screen to provide a larger map view — Areas and Locations grids are now adjacent to one another.
You can now view the change history for any Space Requirement or Placement selected in the Space Requirements screen by clicking the Show history for selected item button on either toolbar.
We've made several usability improvements to the Unit Templates modal, separating some of the more repetitive and less-used fields into separate tabs of the modal, so that the most important information is the easiest to read and edit.
We've improved the reliability of date controls throughout the application.
We fixed an issue where new user accounts were not being created by the system according to the appropriate Active Directory groups.
Space Requirements for a given Grand Block are now grouped correctly on the Schedule screen.
Footprint / Estimated Completion Dates are now displayed using the short-year format for Map Placements.
The Schedule screen now filters correctly according to a unit's "Part Of" assignment.
We fixed an issue where styling Placements according to their Purpose / SOC color caused some Map Placements to display in black.
Have Questions?
Click the Help button in the left navigation pane of the application to search for answers, or visit the Shipyard AI Online Community to view Shipyard AI Knowledge articles or submit a support request.
---
Release 5.10


What's New?
Hull Milestone Chart
We've added a Hull Milestone Chart in the Hulls & Units screen that allows you to view critical dates for all of your facility's hulls in a single view.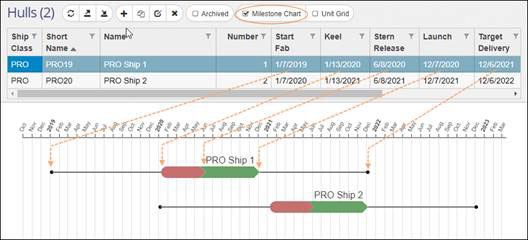 Note: Milestones in the chart correspond to the schedule dates for each hull.
Report Prioritization for Locations
You can now sub-divide Auto Laydown locations for reporting purposes. In the image below, the Example unit can now be reported as being located in OFA Bay 1 instead of OFA Bays 1-3.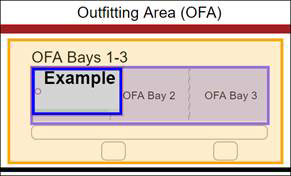 Ability to Define Critical Need Dates
To better track critical construction deadlines, you can now define Critical Need Dates (CNDs) in Shipyard AI for which the Footprint date for a lift or space requirement should never exceed the original scheduled date.
If a change is made that exceeds the scheduled date for the CND, the user who made the change is notified before they can save the change.



The new CND violation icon on the Laydown Map toolbar appears red for all users in the system. You can click this icon to view details about the CND violations.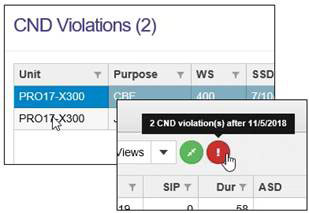 Improved Find on Map Feature
To help you quickly locate work orders or space requirements on the Laydown Map, we've added a Find on Map
button to the Work Orders / WorkPacks and Space Requirement screens. Click the Find on Map button to navigate from the selected item to the associated placement on the Laydown Map.
---
Release 5.8
We're excited to announce the fifth update of 2019 with Shipyard AI version 5.8!
We've added several new features designed to help you organize, standardize, and synchronize your ship construction data.
What's New?
Process Templates and Process Analysis
Process Templates allow you to clearly define construction sequences at the unit level and associate the resulting templates with your existing base data.
With this release, we've added Process Analysis features to help you identify and resolve common data issues (gaps, overlaps, duplicated dates) before they cost you additional troubleshooting time, resulting in cleaner data, fewer errors, and more reliable modeling.

After you've created and assigned Process Templates to your Unit Templates, you can run Process Analysis by clicking the Analyze Processes button in the Space Requirements screen or Process Templates screen. (Results will open in a separate window).


For more information on how to create and use Process Templates, see Refining your Data with Process Templates in the Shipyard AI Support Community.
Space Requirements Screen
We've added a dedicated Space Requirements screen (Base Data > Ship Construction > Space Requirements) where you can manage all of your Space Requirements. This screen includes robust filtering so you see only the Space Requirements you're interested in.

Viewing options include: Space Requirements only, Space Requirements with Placements, and Space Requirements with a view-only Gantt pane.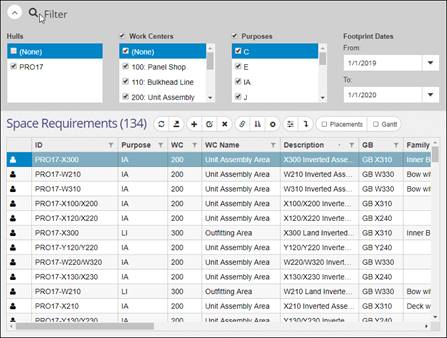 Auto Laydown Improvements
We've improved overall performance and reliability of Auto Laydown and Optimization features.
We've added a 'PreviousLocation' property in the Laydown Strategy, allowing you to perform some basic routing with Auto Laydown.
We've added a Scenario column in the Auto Laydown screen to help you determine the Scenario in which an Auto-Laydown is currently running.
Advanced Data Processing
You can now access Unit Template and Shop Demand attributes to calculate Work Order / WorkPack durations when using Data Processing features.
You can now use Data Processing features to set the duration of a Work Order / WorkPack when generating Work Orders / WorkPacks in the Process Templates screen.

Search Features in the Shipyard AI Help
We've added search capability to the Shipyard AI Help. To quickly search for answers to your questions, click the Help button in the navigation pane, enter keywords to search for, and then click the Search

button.
Improved Customer Support
You can now access the Shipyard AI Community, a secure online resource where you can submit and track support requests and find useful Knowledge Articles.
If you're not already registered, simply send an email to ShipyardSupport@promodel.com with the Subject line "Please register me" and we'll activate your account.
Fixes and Additional Improvements


Show Scheduled Timespan lines now appear correctly on CUP Reports in Internet Explorer.
We fixed an issue where false collisions were created for stacking units when running the Process Flow algorithm with Auto Laydown.
We fixed an issue where Placements disappeared when enabling "Show hidden placements".
We resolved a Lift data processing error that was generated when the same resource was assigned twice.
We resolved an error that was generated when deleting a Hull.
The Schedule Gantt now consistently displays the correct hierarchy.