What's New
Enterprise Portfolio Simulator 2016 released

Additional Rule for Capturing Resources
Multiple resources can now be required to simultaneously be captured prior to the start of a task. Previously, when multiple resources were specified for a task, they would be captured and work on the task independently, as they became available. Now you can specify that all resources must be available prior to any work starting.
Context Help
EPS Help is now context aware! This means that wherever you are in EPS, clicking the Help link (in the top right corner of the application) will open a help topic about that module, which quickly gives you insight into how EPS functions. Help buttons have also been added to dialog windows, which when clicked, will open help content about the dialog. For EPS Reports, help on a specific chart type is accessed by clicking the Help (?) icon in the top right corner of each chart window.
Failed Duration and Work Defaults
The default values for Failed Plan and Failed Override Duration/Work are now initially set to be the same as their associated Plan and Override Duration/Work values. If you would like the Failed values to be something different than their default, simply change the values.
Templates View Optimization
The grids in the Task, Resourcing and Financing views have been optimized so that these views will load their data faster, making the EPS application more responsive.
Compatibility with Microsoft Project 2013 and 2016
Project files created in Microsoft Project 2013 and 2016 can now be imported into EPS 2016!
---
Enterprise Portfolio Simulator 2014 released
ProModel is happy to announce the release of Enterprise Portfolio Simulator 2014! Along with many other great features, this latest version includes Portfolio Scheduler. Portfolio Scheduler is a cloud-based visualization tool for conducting rapid what-if portfolio planning. See in seconds, the impact of resource constraints on multiple project schedules. Please contact us at 888-776-6633 or support@promodel.com to determine if you are eligible for a free support-assisted upgrade.
Portfolio Scheduler
Not familiar with our Portfolio Scheduler?
This amazing new feature of EPS facilitates rapid portfolio what-if scenarios that show the impact of project schedules on constrained resources. It helps ensure that projects finish on time and within budget. Have the right resources in the right place at the right time!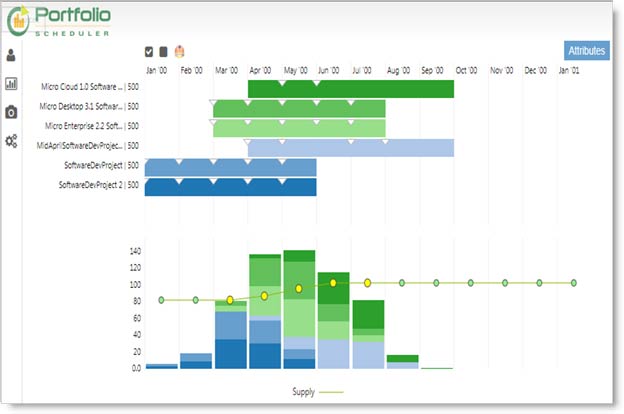 Allocation Strategies
Experiment with new resource allocations to answer high-level questions like, what is the impact to my projects if I only have 80% of my current capacity going forward.
Adjust Capacities
Drag resource capacity up or down and see the impact on resource schedules.
Stack by Attributes
View demand stacked by attribute and drag whole demand segments, with their associated projects, forward and backwards in time.
---
What are the other new capabilities of the Enterprise Portfolio Simulator?
This version includes many enhancements that make it easier for you to simulate real-world projects and portfolios. Just some of these great features are listed below:
Template Matching Improvements
You can now use attributes to drive templates with more powerful capabilities that support comparison operators like greater than, less than, contains, starts with, etc.
Transfer Profiles from on division to another
You can now quickly copy template profiles from one division to another.
User Permissions by Division
Define user permissions on a per-division basis.
Resource Capacity Categories
Individual capacities for resources types can be defined and viewed in the resource unit time series report.
Resource Leveling Contours
Set up a capacity contour by resource by project to more powerfully model capacity sensitivity scenarios.
Fixed Cost and Cost Contours
Model costs over time with fixed costs contours. We now have up to 30 user-definable fixed cost fields.
In-Line Contours in more places
You can now define contours directly to the objects themselves with inline contours.