Training News
Don't Miss These Upcoming Classes In Orem, UT:
ProModel/MedModel Advanced on August 6th-7th
Simulation Essentials in Orem on August 12th-14th
We continue to host a variety of in-depth continuing education classes. Be sure to check out our schedule of upcoming classes below. Sign up early, as classes can fill quickly!
Visit our training page to see a full list of upcoming classes and to view more detailed decriptions of our training courses.
---
Visit Our New Training Page
Vist our new training page layout to see new training information, tutorials and the latest online and on-site training classes offered by ProModel.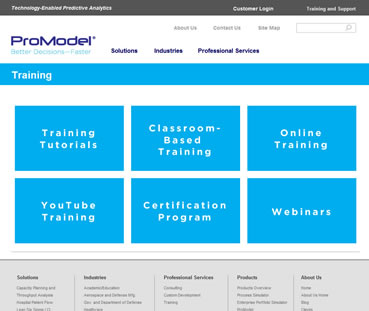 ---
The ProModel Training Experience
Here at ProModel, we realize that successful use of our tools usually begins with great training. To that end, we have a variety of training options available. The course you choose will depend on your product and situation. These options are described on our training page. This post is about our classroom based trainings, our facilities, and what you can expect if you choose to join us. Regardless of your experience with business travel, it's usually nice to know what to expect when you reach your destination.


Rochelle Price
Director of Training
We have regularly scheduled classes held in Allentown, Pennsylvania, and Orem, Utah. These classes usually last two or three days (depending on the course) and run from 8:30 a.m. to 5:00 p.m. local time, with an hour break for lunch.
Our classrooms are set up with a computer for each student and a projector screen at the front. Your instructor will demonstrate and explain new concepts and then allow you time for hands-on implementation of the exercises on your training computer. If you bring your own laptop or wireless device, you are welcome to use our classroom Wi-Fi connection to access the internet during breaks.
Usually we have three to six students in a class at a time, so you'll have plenty of time and attention from our instructors. You will also have the opportunity to get to know other ProModel customers and hear of their experiences and applications of the tool. We provide drinks and snacks throughout the day, but then "set you free" to grab lunch on your own. Frequently students will explore new restaurants together, but we understand that some clients need time on their lunch hour to catch up with business at the office.
Click the link below to read Rochelle's complete blog post and learn more about ProModel's training program.

Meet ProModel's Director of Training, Rochelle Price, and Learn More About Training Opportunities at ProModel.
---
Process Simulator Professional Training Video
New Training Video For Process Simulator Pro Now Available On YouTube!
Learn more about ProModel's Award Winning Services