Academic News
ProModel is now giving students even more exposure to simulation and a unique hands on experience with:
Process Analytics Using ProModel Workstation Simulator
ProModel Workstation Simulator :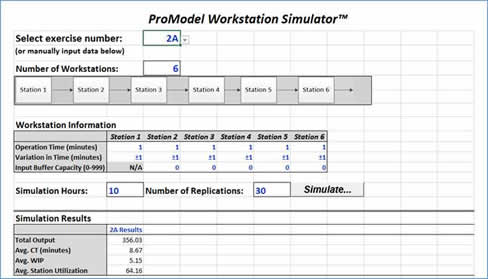 Suitable for an undergraduate or MBA course in Operations Management as well as an introductory IE course on systems.
Requires only Excel and student version of ProModel, which can be downloaded from www.promodel.com.
Files used for the exercise are

PWS Workbook (Word file) – Contains the instructions and exercise information.
ProModel Workstation Simulator (Excel file) – The spreadsheet for defining models, running simulations and viewing output results.
Workstation Model Master (ProModel file) – The ProModel template used in creating models.
PWS Graphic Library (ProModel Graphic file) – Contains the graphics used in the simulation models.

All exercises are self-guided and self-paced.
Takes about 2 hours to complete all 5 exercises and answer all questions.
Solutions are provided to instructors.
Exercises cover all the fundamentals of system dynamics.

Impact of interdependencies and variation on system performance
Bottleneck analysis
Buffer sizing
Process improvement using Lean and Theory of Constraints

Exercises begin very elementary with canned experiments and gradually get more advanced with students running their own experiments.
Environment is controlled and catches input errors.
Instructors can skip, modify or add additional exercises.
Students get exposed to simulation and learn how to

Run independent replications
Interpret confidence intervals
Use a warm-up period
Conduct scenario comparisons

Students get to test their own intuition against the analytical capability of the simulator.
Click here to view the ProModel Workstation Workbook – "Process Analytics Using ProModel Workstation Simulator"
Professors wanting to demo ProModel Workstation Simulator may contact ProModel Support to receive a temporary license of the student version of ProModel 2014. Please use the following files to run the demonstration model: