Textbooks and Updates

Fourth Edition of Simulation Using ProModel Released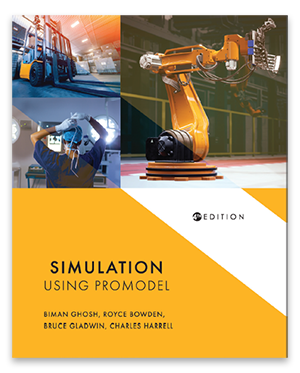 ProModel is excited to announce the fourth edition of Simulation Using ProModel. Co-written by our founder Charles Harrell and senior vice president Bruce Gladwin with other industry experts, Simulation Using ProModel is published by Cognella Academic Publishing. To learn more about the fourth edition, view a digital preview, and purchase copies, please visit the Cognella website.
Simulation Using ProModel helps students build competence and confidence in the use of simulation through hands-on application. The text features a blend of theory and practice, real-life examples, case studies, and lab exercises using ProModel to help students develop their knowledge and abilities.
Part I consists of 14 study chapters. The first four chapters introduce simulation, its application to system design and improvement, and how simulation works. Chapters 5 through 11 cover the practical and theoretical aspects of conducting a simulation project, including applying simulation optimization. Chapters 12 through 14 cover applications of simulation to manufacturing, material handling, and service systems.
Part II features 14 labs that correlate with the 14 chapters in Part I. Each lab guides students through the steps of modeling a situation using ProModel and then provides exercises to further develop their skills.
Simulation Using ProModel, Fourth Edition - available from Cognella Academic Publishing
Biman Ghosh is a professor of industrial and manufacturing engineering at the California State Polytechnic University, Pomona.
Royce Bowden served at Mississippi State University and Wichita State University as a College of Engineering dean, associate dean, department head, and professor. He specializes in simulation
output analysis and co-developed the first widely used simulation optimization software.
Bruce Gladwin is a senior vice president at ProModel Corporation. With more than 30 years of experience in the simulation field, Bruce has worked with major corporations worldwide, developing hundreds of models across a wide range of industries.
Charles Harrell is retired from teaching in the Engineering and Technology School at Brigham Young University. He is the founder of ProModel Corporation, where he still maintains a role on the board of directors.
---
Simulation Using ProModel 4th Edition -
Preliminary Edition Now Available
Publication Announcement: The preliminary version of the fourth edition of Simulation Using ProModel by Biman Ghosh, Royce Bowden, Bruce Gladwin, and Charles Harrell will be published by Cognella Academic Publishing is now available for course use in Fall 2021. The final version will be available in January 2022.
Those interested in adopting the text can reach out to the Cognella adoptions team at adopt@cognella.com or 800-200-3908 x503 to place an order with the following details:
Title: Simulation Using ProModel
Authors: Biman Ghosh, Royce Bowden, Bruce Gladwin, Charles Harrell
Edition: Preliminary
ISBN: 978-1-7935-1977-1
Term: Fall 2021
When the book is adopted, a posting is created in the Cognella student store specific to that instructor's course, and the instructor will receive that link.
Some of the changes of this new edition:
Model examples in Lab 4, 6, 13, and 14 are all new.
New Chapter 11 (Design of Simulation Experiments) , and Lab Chapter 11 (Simulation Analysis of Designed Experiments using ProModel) added.
14 theory chapters and 14 lab chapters in total.
Case Studies in Chapter 1 changed.
A material on Validation added in Chapter 7.
A section on Validation and a Case Study added in Lab 7 and Lab 9..
All screen shots are compatible with the latest version of ProModel.
New in Version 4:
PowerPoints for all theory chapters
Multiple choice and T/F questions for all theory chapters
Solution models for all the exercises
View a webinar that previews the upcoming release of the Simulation Using ProModel, 4th Edition.
Download Video: "ProModel-Using-Simulation-Textbook-Edition-4-Preview-Webinar.mp4"
If you would like to be a peer reviewer, please contact one of the authors, Biman Ghosh, at bkghosh@cpp.edu.
---
Textbooks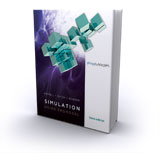 Simulation Using ProModel,
Third Edition
ISBN 978-0-07-340130-0
Simulation Using ProModel covers the art and science of simulation in general and the use of ProModel simulation software in particular. The text blends theory with practice. Actual applications in business, services and manufacturing and a hands-on approach to simulation, including real-world simulation projects, are emphasized.

Available through
Amazon
---

Updates
Missing Lab 4 Models
These files are missing from the student CD. These are needed for the Simulation Using ProModel textbook. You may download them below:
SimRunner 3.0 Student Update - Download the latest update for SimRunner.